New team to aid fight against Covid-19 in Pembrokeshire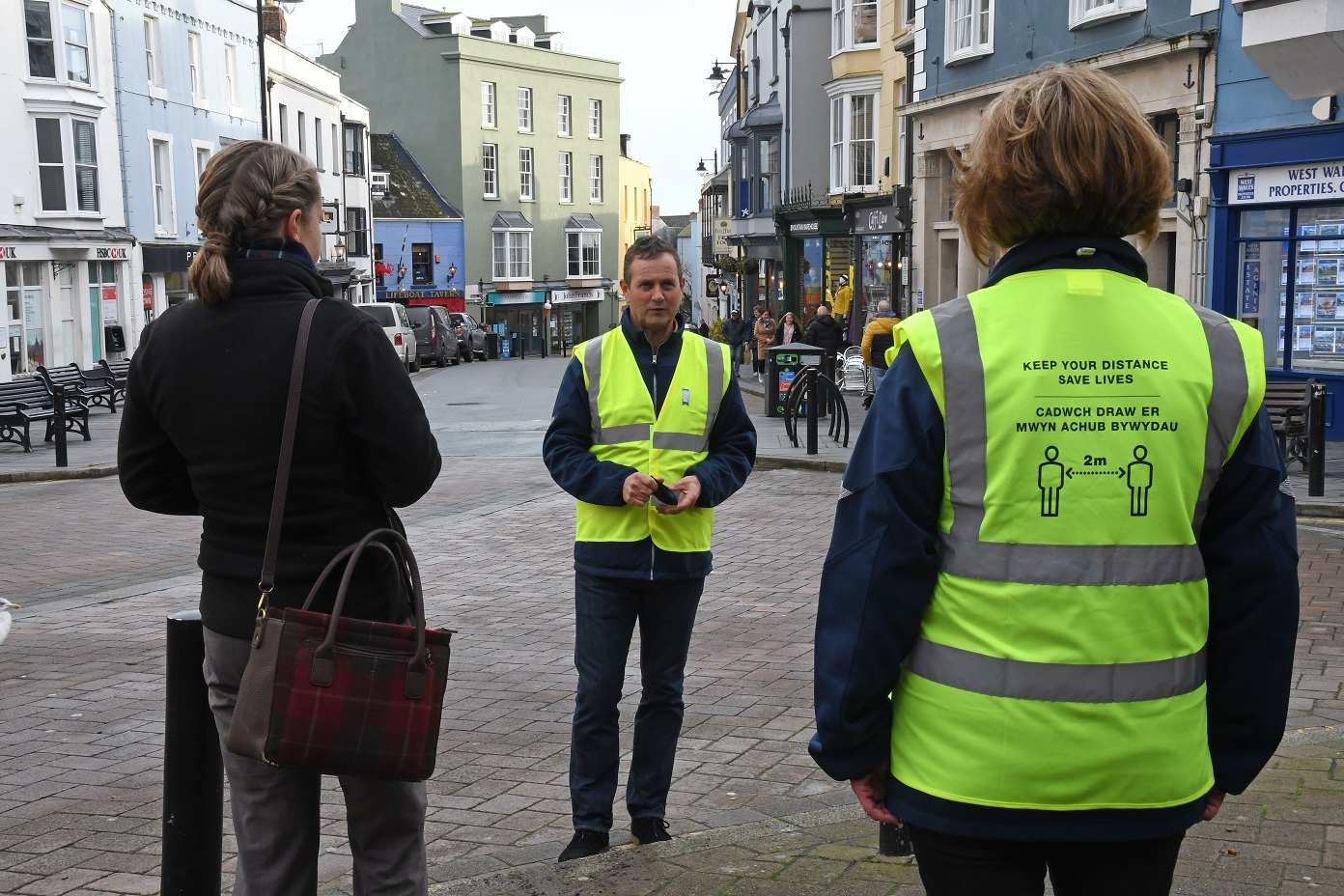 A new team has been set up to help support Pembrokeshire businesses to implement and follow Covid-19 rules put in place for everyone's safety.
Following the award of some additional funding from the Welsh Government, a team of seven COVID Enforcement Officers has been employed by Pembrokeshire County Council.
They will be out and about across the county from this weekend, working closely with the Council's Public Protection team and Dyfed-Powys Police Officers.
Despite the name, the team will be looking to engage and educate about Covid-19 laws and guidelines and enforcement will always remain the last resort.
The team will offer advice and support to business owners, respond to and investigate complaints regarding compliance with guidelines and regulations and carry out spot checks.
Where engagement and education is not successful, appropriate enforcement will be considered.
Councillor Cris Tomos, the Cabinet Member for Environment, Public Protection and Welsh Language, said: "Despite the job title the role is really one of engagement and education and supporting and encouraging.
"Covid-19 has seen massive changes to all of our lives and part of that is new ways that businesses must operate, to help prevent the spread of the virus.
"Hopefully the officers can also provide reassurance to businesses that they are complying and helping to support the fight against Covid-19."
Cllr Tomos said there had been a fantastic response from Pembrokeshire businesses whenever new regulations have been introduced during the pandemic.
He added: "We've been extremely lucky in Pembrokeshire that businesses have been really proactive and supportive of the measures needed and that only four improvement notices have been served so far.
"This is testament to the hard work of the businesses and our Public Protection Team and with this new team we want to continue to build on that hard work and the relationships already in place."
Chief Inspector Louise Harries of Dyfed-Powys Police, said: "Dyfed-Powys Police in Pembrokeshire has a long history of working with its partners to keep people safe.
"It is more important now than ever that we work together, and these new roles will strengthen our collective response as we head into the winter.
"We all have a part to play in protecting our loved ones, neighbours and colleagues, and in addition to this education and enforcement we should all carry on with the basics of regular hand washing, wearing a face covering where required, keeping socially distant and getting tested when you have symptoms.
"If we all do these things, we will achieve a safer Pembrokeshire for everyone."
---
'Vaccines are best way to help NHS ahead of challenging winter' says Health Minister
People eligible for booster COVID-19 vaccinations and flu jabs are encouraged to take up the offer ahead of a challenging winter for NHS Wales, the Health Minister has said.
In an updated COVID-19 vaccination strategy, being published today (Tuesday October 12), Health Minister Eluned Morgan confirms that the majority of people eligible will be offered their booster vaccination by December 31, 2021.
People who are severely immuno-suppressed will be offered a third dose of vaccine to provide them with as much protection as possible. They will be prioritised for an urgent appointment at a time that's right for them based on their treatment and the advice of their clinician.
The strategy also confirms that by November 1, 2021, offers will be made for;
one dose for all 12-15 year olds and,
a booster vaccination for care home residents and health and care staff.
Everyone in the Joint Committee on Vaccination and Immunisation (JCVI)'s 1-9 priority groups will be invited for a booster vaccination when it has been at least six months since their last dose. As before, invitation letters will be sent directly from health boards and people are requested not to contact their GP.
Health Minister Eluned Morgan said: "This winter will be incredibly difficult for our health service so it is vitally important for people to take up the offer of their COVID-19 and Flu vaccine if eligible to protect themselves and the NHS.
"Vaccinations for coronavirus are highly effective and protection against hospitalisation is estimated at around 95 per cent after the second dose. The flu vaccine will also protect people from serious complications and I encourage anyone who is eligible to get their flu vaccine regardless of their eligibility for a COVID-19 booster vaccine.
"We have so far given more than 4.6 million COVID-19 vaccinations and 85 per cent of the over 16 population are fully vaccinated.
"There is no concern over the supply of any of the vaccines and we hope as many people as possible take up the offers to continue to protect those most vulnerable and the NHS."
Health boards are already making good progress in providing the booster, vaccinating 16 and 17 year olds and 12-15 year olds, including those most of risk due to underlying health conditions.
We are also encouraging 12-15 year olds to have a conversation about having the vaccine with their family or trusted adult.
Most younger adults will only have received their second COVID-19 vaccine dose in late summer or early autumn and they will still have a high level of protection. The benefits of booster vaccination in this group will be considered when more information becomes available.
The strategy also sets out that a digital booking system is being developed to allow people to book appointments online to try to make it as easy of possible for people to come forward at a time which suits them.
Appointments for first doses of COVID-19 vaccines are still available for anyone unvaccinated.
COVID Pass for events and nightclubs in Wales start from today
People in Wales must show a Covid Pass or demonstrate their Covid status to enter nightclubs and attend large events from today (11th October).
Businesses could be fined up to £10,000 and issued closure notices for non-compliance. Fines could also be issued for people faking test results or vaccine status.
Cases of coronavirus continue to be high across Wales, especially among younger adults the Welsh Government have warned.
The new law starting today mandates that all adults over-18 will need to show an NHS Covid Pass or a negative Covid test to enter certain premises:
Nightclubs and similar venues;
Indoor, non-seated events for more than 500 people;
Outdoor non-seated events for more than 4,000 people;
Any setting or event with more than 10,000 people in attendance.
The controversial law passed by just one vote, after Welsh Conservative minister Gareth Davies, who was attending the party's conference in Manchester, couldn't log onto Zoom to vote against the proposal.
Economy Minister, Vaughan Gething said: "Our fantastic vaccination programme continues to go from strength to strength but the pandemic is not over. Cases of remain high across Wales and, unfortunately, families across the country are losing loved ones to this awful virus.
"The clear advice from our scientific advisers is that we need to take early action now.
"The Covid Pass is just one of a series of measures in place to help prevent people spreading and catching coronavirus while helping to keep the economy open. None of us want to see further lockdowns and for businesses to have to close their doors once again.
"Showing a Covid Pass is already part of our collective effort to keep businesses open, with some major events, such as the successful Green Man Festival, using it.
"Together, if we all continue to follow the clear guidelines we're all used to by now, we'll be doing everything we can to Keep Wales Safe."
People who are fully vaccinated in Wales can already download the NHS Covid Pass to securely show and share their vaccine status. It also allows people to show they have had a negative lateral flow test result within the last 48 hours.
Only people attending these venues and events will need to show their Covid status. Staff working or volunteering in these venues are encouraged to take lateral flow tests twice a week to check they do not have the virus. Workplaces are required by law to undertake Covid risk assessments, and to put reasonable measures in place to ensure staff safety.
The Welsh Government say that Covid passes have been used successfully in many venues and events in Wales throughout the summer.
The First Minister confirmed last week that Wales will remain at alert level zero for the next three weeks. Plans are in place to respond to a challenging winter ahead with both coronavirus and seasonal flu both in circulation.
Welsh Government Ministers are continuing to encourage people to take steps to reduce the spread of the virus by continuing to work from home whenever possible, ensuring they take up the offer of a Covid vaccine, keeping your distance, isolating and taking a PCR test if you have symptoms, and wearing a face covering in indoor public places and on public transport.
The Welsh Government say they will use the current enforcement regimes for monitoring compliance – this means businesses and events will need to ensure their proposed arrangements to comply with the Covid pass regulations are included in their risk assessments, and reasonable measures to ensure compliance.
Penalties for non-compliance will include:
a premises improvement notice or premises closure notice;
a fixed penalty notice and a maximum fine for businesses of £10,000.
In addition, it is now an offence for a person to provide false or misleading evidence of vaccination or testing status where that evidence is required as part of the requirement for holding a Covid pass.
(Lead image: Mark Angelo Sampan / Pexels.com)
First Minister unveils new plan to keep Wales open and safe during "challenging" winter ahead
The First Minister, Mark Drakeford, will today (Friday 8 October) publish new plans to help keep Wales open and safe during the difficult autumn and winter months ahead.
The Welsh Government is publishing an updated Coronavirus Control Plan, which outlines the key actions, which could be put in place to control the spread of the virus.
Wales will remain at alert level zero for the next three weeks, following the latest review of the coronavirus regulations. This means all businesses are open and Wales has the lowest level of restrictions.
Speaking ahead of his press conference, First Minister Mark Drakeford said: "We are facing a challenging winter ahead – coronavirus hasn't gone away and flu is forecast to return this winter.
"Vaccination is the best defence we have against coronavirus – the more people who are fully vaccinated, the better our chances of controlling the spread of this awful virus.
"We will continue to focus our efforts on increasing take up of the Covid-19 vaccine across the age and priority groups and rolling out the booster vaccine too. We also encourage everyone who is eligible, to have their flu jab this year.
"There is also a range of other measures we can all take to help protect ourselves and our loved ones, such as washing our hands, reducing the number of people we meet and wearing a face covering in indoor public places.
"These measures have helped keep us safe throughout the pandemic and they will also help to protect us from other winter viruses, such as flu and other respiratory infections."
The latest version of the Coronavirus Control Plan sets out two planning scenarios for the pandemic over the winter – in the first, called Covid Stable, Wales remains at alert level zero through the autumn and winter, with all businesses able to open.
This is thought to be the most likely scenario for the future, as we become used to living with coronavirus and we gradually move out of the pandemic to a position where the virus becomes a seasonal illness.
Under this scenario, if case rates fall, measures could be relaxed further in response, and if they rise, some existing measures could be strengthened to protect people's health.
The second planning scenario, called Covid Urgent, is designed to deal with any sudden changes to the situation, caused by the emergence of a new, fast-spreading variant or if vaccine immunity levels fall, causing a rise in pandemic pressures, which risk overwhelming the NHS.
The Welsh Government says that in such a scenario, the alert level system and restrictions would be used proportionately, but as a last-resort means, to protect people's health, control the spread of infections and to protect the NHS.