Funding boost for Swansea's Lliw Valley Reservoir will enhance visitor facilities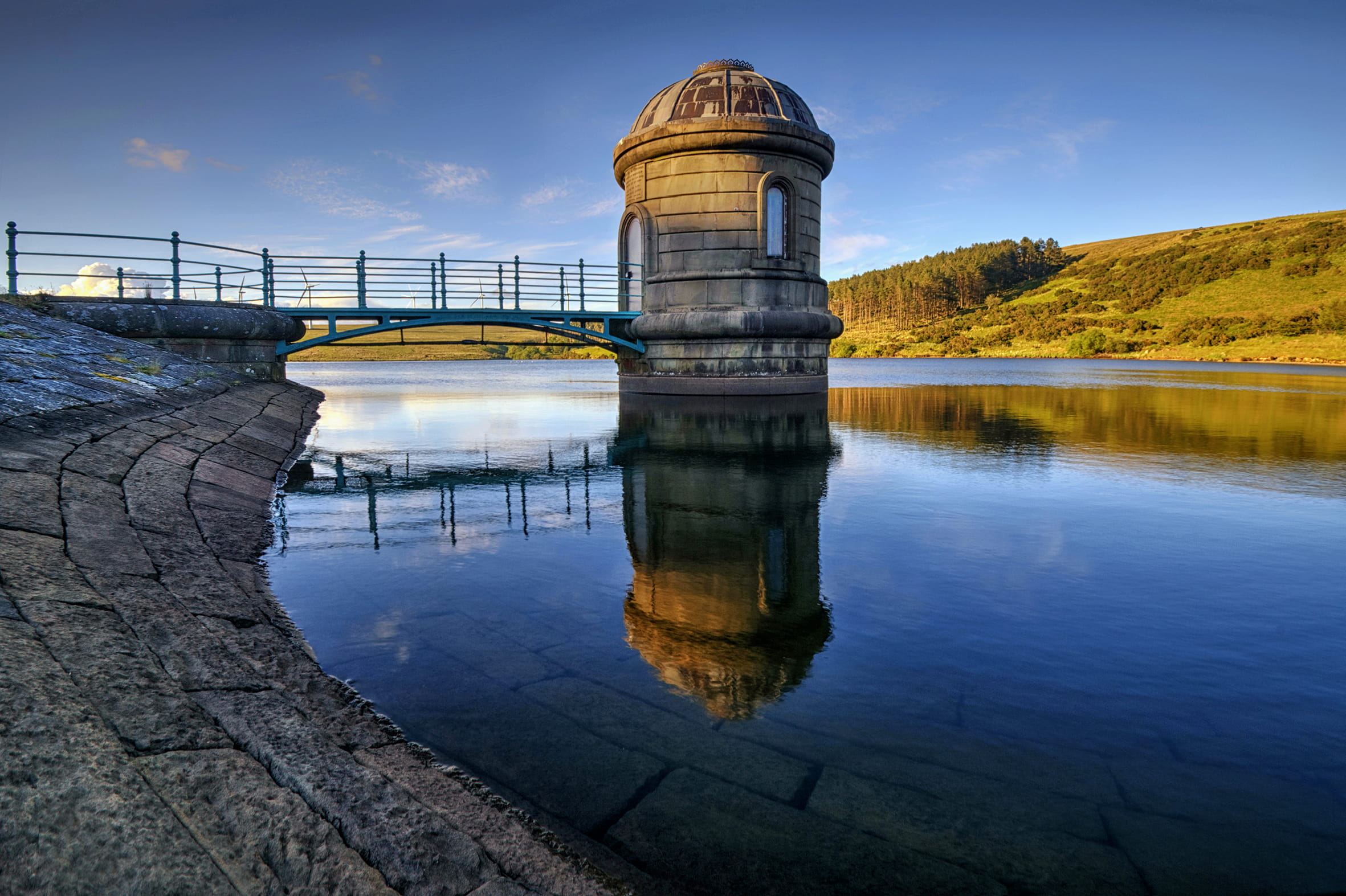 A well-loved beauty spot in Swansea has been given an 'Access to Water' grant of £103k from Welsh Government that will enable a range of improvements for visitors to Lliw reservoirs.
Dŵr Cymru Welsh Water, who operate the site, say the 'Access to Water' funding is an important milestone in achieving shared ambitions for the site enabling a range of paddlesports to the reservoir, including stand-up paddle boarding, canoeing and kayaking. It will enable the creation of a boat wash for biosecurity and a pontoon that allows easy access to water for people of all abilities. Many local clubs have expressed a keen interest in using the reservoir for regular water sports activities. The site is already popular with local people who enjoy the café, small shop and walking routes on site.
Other visitor improvements include the creation of a new public footpath around western side of Lower Lliw reservoir to connect footpath MW16 to common land and create a circular walking route around reservoir, which will be adopted by Swansea Council. An informal path through Brynllefrith Woodlands will be upgraded so that it is suitable for wheelchairs and bicycles and all year-round use. New interpretation and a nature trail with wood carvings is also planned for visitors to enjoy the nature in abundance around the reservoir. The area is a site of outstanding natural beauty and part of the Valley's Regional Park, one of the special character landscape areas that define Wales. The reservoirs are surrounded by a mosaic of habitats and support a wide diversity of flora and fauna, many of which are considered rare.
The project is well placed to support the delivery of The Wellbeing of Future Generations Act (Wales) 2015, which requires public bodies in Wales to think about the long-term impact of their decisions, to work better with people, communities and each other, and to prevent persistent problems such as poverty, health inequalities and climate change. Whilst Welsh Water is not a public body, it is committed to working in partnership with Swansea Council, Natural Resources Wales and Canoe Wales in the spirit of the legislation.
Welsh Government wants to see concerted; collaborative action taken by stakeholders to increase recreational access to inland waters, in line with Covid19 regulations, with the following outcomes:
Increased and more frequent participation, across a range of recreation types:
More inland waters accessible more of the time.
By working in partnership DCWW believe that Lliw reservoirs can contribute positively to this vision.
The development of Lliw reservoirs for access and recreation will support a green recovery in Wales by enhancing the natural environment; improving the visitor experience, infrastructure and facilities; and building strong partnerships locally. It contributes to Swansea Public Sector Board's objectives on health & wellbeing by providing quality and accessible facilities, enabling access to the natural environment and improving health and well-being, creating a sense of pride and belonging by encouraging greater use and a sense of ownership.
Welsh Water Chief Executive Peter Perry said, "The Upper & Lower Lliw reservoirs provide a potable water supply and so protecting water quality is of vital importance, while safeguarding a highly regarded natural local beauty spot. This project will also take us one step closer to delivering our ambitions to reconnect people with water and the environment. We hope that the site becomes a hub for health and wellbeing for visitors to develop a deeper connection with the outdoors."
Minister for Environment, Energy and Rural Affairs, Lesley Griffiths, said: "This is an excellent example of a scheme which increases opportunities for outdoor recreation and provides safe access to water for people of all abilities. The development of these reservoirs will enable local people and visitors to gain more enjoyment from this beauty spot in line with covid19 guidelines and help to support a green recovery in Wales. I hope the success of this project will encourage development of many more similar opportunities over the coming years."
Phil Stone, Places to Paddle Manager for Canoe Wales, the national governing body for paddlesport in Wales, added, "We are really pleased to be able to work with Dwr Cymru to help them achieve their ambitions to reconnect people with the water environment. We have recently seen a massive increase in the demand for canoeing, kayaking and stand up paddleboarding, but the limited number of venues in Wales suitable for new paddlers has always been a major obstacle. Opening up opportunities at Lliw will make it possible for people of all abilities to enjoy the water, and for many to discover a passion for paddlesport and develop a deep connection with the outdoors."
Dave MacCallum, Specialist Advisor for Water Access & Recreation at Natural Resources Wales and Chairman of NAFW Access to Water Sub-Group said, "We are delighted to be a part of this important collaboration in South Wales; with NRW being committed to enabling responsible, inclusive recreation of Wales' inland waters. Lliw reservoirs will now benefit from bespoke all-ability paddle-sport access facilities, along with a Biosecurity station promoting and enabling the Check Clean Dry code of practice; further paving the way for future recreation access to our inland waters for current and future generations."
(Lead image: Dŵr Cymru Welsh Water / Shutterstock)
---
Cadle Heath is alive with the sound of critters
From endangered bats to moths, beetles and unusual critters, a Swansea suburb is giving locals an opportunity to discover exactly what's living on their doorstep.
The Cadle Heath BioBlitz event funded by the Swansea Nature Partnership on Saturday, May 14, is a day packed with scavenger hunts, guided walks, opportunities to learn about the wildflowers, bugs birds, reptiles and mammals and help to gather important nature data by recording the unusual species living in this urban heath.
This nature reserve is one of Swansea's best kept secrets and stretches from behind Swansea Community Farm on Carmarthen Road, to popular shopping-destination, Pontarddulais Road Retail Park.
The event, which is organised by Swansea Community Farm, South East Wales Biodiversity Records Centre and Penderi Green Regeneration project, will take place between 10am and 3pm at the farm. Followed by a bat walk at 8.30pm, giving people the chance to listen for the elusive, red-listed, Lesser Horseshoe Bat in its natural habitat.
Kate McCabe from Pobl, leading on the Penderi Green Regeneration Project, said: "This is an exciting event for us. Cadle Heath is one of the best examples of urban heathland in the country and we are proud to have such a rich, exciting space for nature in the heart of Swansea's Penderi region. The fact that the heath is home to a red-listed bat species is something we should be really proud of and something we should protect and celebrate."
"Cadle is in such a highly populated part of Swansea that it is often overlooked, and people don't often realise the hidden haven that exists for local wildlife. This family-friendly event will really bring the area to life, giving people a unique opportunity to really explore the area with the guidance of passionate scientists and nature experts."
Katharine Aylett, from Swansea Community Farm, said: "We are proud to be hosting such an important and exciting event for the area, and to be partners of Pobl's Penderi Green Regeneration Project. At Swansea Community Farm, we know the positive effect activities like this have on the community and local wildlife; it's about raising awareness of the natural world and bringing people together, outdoors. 
"The Penderi Green Regeneration Project itself, is vital to the area and is already having a clear impact on this part of Swansea. We're looking forward to working with them on future events and initiatives."
The Penderi Green Regeneration Project is an initiative to support local people in their desire to improve green spaces in their area which will help boost health and wellbeing. Through a series of physical and educational opportunities, the initiative will bring the wider neighbourhood together to regenerate green spaces in the Penderi area of Swansea.
Funded by UK Government, under the Community Renewal Fund (CRF), Pobl Group is able to deliver the Project with the help of key partners, Swansea Environment Centre, Room To Grow and the Conservation Team at Swansea Council.
For more information on the free event, visit: www.swanseacommunityfarm.org.uk
First Minister celebrates 10 years of the Wales Coast Path
The First Minister will celebrate the 10th Anniversary of the Wales Coast Path with a visit to meet volunteers and walkers.
A year long programme of events and activities celebrating the Wales Coast Path will take place throughout 2022, including walking festivals, virtual challenges and art installations.
Since its opening in 2012, the Wales Coast Path has established itself as a beacon of our nation's natural beauty.
The 870 mile path guides walkers along Wales' picturesque coastline, weaving its way past a hundred beaches and sixteen castles.
First Minister Mark Drakeford said: "The coastal path is one of the crowning glories of Wales and one of the proudest achievements of devolution.
"I would like to thank all those involved in the management of the path. Particularly the staff and volunteers, who are out in all weathers, working hard to maintain the path to such high standards.
"If I had to choose my favourite stretch of the path, the portion between Pendine and Amroth would be a candidate: starting in my own home county of Carmarthenshire, and ending in Pembrokeshire. It may not be the most well-known part of the path, but it offers huge variety: some challenging climbs, outstanding variety of flowers, secret coves and plenty of historical interest".
The Welsh Government will build on the successes of the first ten years so that more people are able to enjoy the path, from more backgrounds, more easily, and with more benefits for local communities, businesses and the environment.
The Deputy Minister for Climate Change, Lee Waters MS, asked Huw Irranca-Davies, MS for Ogmore to undertake a review of the Wales Coast Path.
A small group, drawn from academia and the public, private and voluntary sectors was established to undertake the review.
The Group reflected on the key achievements over the last decade and identified how to maximise opportunities for the future.
Their report has been published on the Welsh Government website today (11 May).
The review recognises the potential value and challenges of the Wales Coast Path. It contains 19 recommendations for the Welsh Government to consider when developing its future strategic approach to the path.
Man banned from driving for 12 months for fishing offence
A man from Merthyr Tydfil who travelled to the River Loughor, near Llanelli to fish using a barbaric and illegal method, has been banned from driving for 12 months as part of his sentence.
Vu Quang Tien pleaded guilty to an illegal fishing charge and also to a charge of obstruction of a Natural Resources Wales (NRW) Fisheries Enforcement Officer on 26 April at Swansea Magistrates Court.
Mr Tien and two other anglers were witnessed by NRW Fisheries Enforcement Officers deliberately using the illegal foul hooking method of fishing – also known as snatching – at the river Loughor on 15 August 2021. NRW officers attended the site after several reports of illegal fishing were made to NRW's 24/7 incident call centre by concerned members of the community.
When approached and questioned by NRW officers, Mr Tien and his accomplices showed significant hostility and reluctance to share identification documents which eventually had to be extracted by use of reasonable force.
All of Mr Tien's fishing tackle and fish, along with his associates' fishing tackle was seized by NRW Officers at the time of the incident. The district judge on the day at Swansea Magistrates Court gave permission to NRW to confiscate these items permanently from each of them.
The District Judge disqualified Mr Tien from driving for 12 months due to seriousness of the incident, and the premeditated and deliberate action of travelling such a distance to commit the offence.
He was also ordered to pay a total of £2,334 in fines, NRW costs and a victim surcharge.
Mark Thomas, Fisheries Enforcement Officer for NRW, said: "We would like to again thank Dyfed Powys Police, the local communities and also the law-abiding anglers in the area for their continued support in reporting these illegal fishing activities.
"Foul hooking is a truly barbaric form of fishing carried out by a small minority of anglers in Wales, who have no regard for fish welfare.
"NRW and the Police take these incidents seriously as do the courts.
"Hopefully, the small minority of anglers who may in future, think of using any illegal fishing methods will take heed of the heavy fines and driving ban in this case issued by the courts."
(Lead image: Natural Resources Wales)