Work to remove diesel affected soils from the Llangennech fuel spill site has begun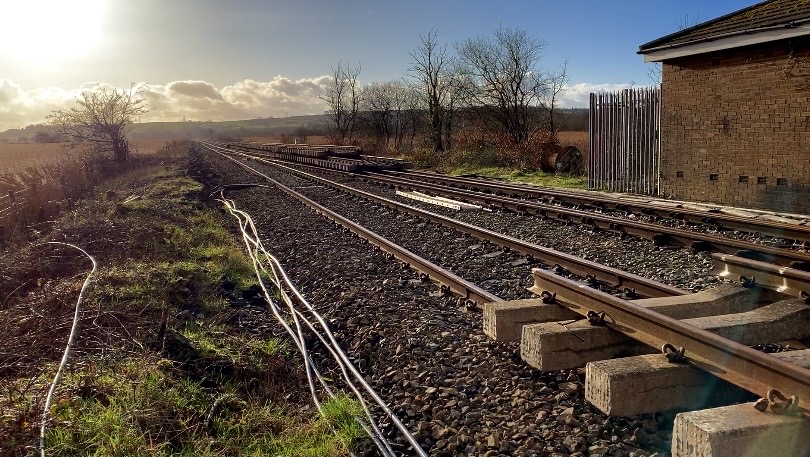 Three months on from the Llangennech freight train fire, remediation work to remove and replace 12,000 cubic metres of diesel contaminated soil around the site has begun.
Specialist environmental contractors Adler and Allan and Jacobs are carrying out the complex operation on behalf of Network Rail. They say the contractors will be working around the clock for the coming weeks to complete the work safely and as swiftly as possible.
The remediation plan has split the contaminated site into cells. Each cell will be carefully excavated, removing up to 30 cubic metres of affected soil at a time. It will be removed from the site by lorry and safely treated at a licenced waste management facility near Merthyr Tydfil.
The excavated areas will then be filled with clean quarried materials specifically selected to match the pH levels of soils in the area, and the replacement railway line is expected to be put in place, if all goes to plan, early in the new year.
An area of woodland to the north east of the incident site on Coal Authority land will also be similarly restored.
Bill Kelly, Network Rail Wales route director, said: ""We understand that the temporary closure of the railway line in Llangennech is a big inconvenience for local businesses, public travel and tourism but our teams are working extremely hard to get the line back up and running as soon as possible.
"We believe the decision we have made to remove more soil, deeper under the railway line is the right thing to do, as it will minimise any impact on the environment for future generations.
"The work involves more vehicles moving to and from the site, most of which will happen during the day, but we are trying to keep noise levels down as much as possible.
"We continue to be very grateful to the local community for their patience as we work to restore the railway."
Ioan Williams, South West Environment Team Leader for Natural Resources Wales, said: "This is an extremely complex recovery operation. There has been careful and considered effort put into the remediation work plan by a wide range of organisations and individuals, and after considerable planning and preparation it is encouraging to see that work finally getting underway.
"We have had to plan for potential disruption to the surrounding land that excavation work could cause, the safe disposal of the affected soil as well as ensuring there are plans in place to continue with the containment of the diesel and ongoing monitoring of the surrounding environment and fisheries.
"We have also been working closely with the Coal Authority to establish the safest way possible to remove pollution from their land without compromising the mine water treatment lagoons, or risk any mine water escaping from the former Morlais Colliery.
"As a multi-agency group, we are confident that all the necessary steps are being taken to help this area recover safely from the pollution."
"The Heart of Wales railway line, will remain closed until all remediation works are completed, which continues to have an impact on the public, businesses and tourism."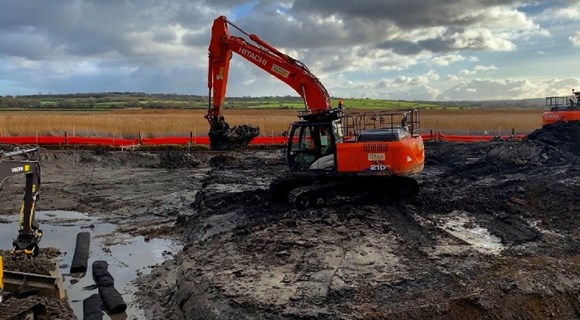 Multi-agency strategic and tactical groups are overseeing the recovery effort. They include representatives from Natural Resources Wales, Carmarthenshire County Council, City and County of Swansea, Network Rail, British Transport Police, Food Standards Agency, Welsh Government, Public Health Wales and the Coal Authority.
They're working together to reduce any potential for impact of the incident on the local community, the environment and the economy.
Nia Griffith MP, Lee Waters MS and Tonia Antoniazzi MP have visited the site to see progress for themselves.
Lee Waters MS said: "I'm really impressed with the way the different organisations are working together on site to remove truckload after truckload of contaminated soil. This is vital work which is helping to minimise the environmental impact of this terrible incident."
Nia Griffith MP added: "Being on site really brings home the scale of the rebuilding work and the depth that has been dug out for the clean-up and to re-lay the track, and I look forward to when both the District line and Heart of Wales line are fully operational again."   
Tonia Antoniazzi MP added: "I'd just like to add a big thank you to the teams working out in the mud here, NRW, Network Rail and Adler and Allen…. such important work  to safeguard the estuary."
Monitoring and sampling work at the derailment site and the surrounding area will continue. This includes monthly sampling of cockles to ensure there is no risk to public health through further seepages of diesel into the wider environment.
The ongoing investigation into the cause of the freight train derailment is being led by the Rail Accident Investigation Branch. Further detail can be found on Network Rail's website.
For more information and advice visit https://naturalresources.wales/Llangennech.
---
Man who filmed rape on Ammanford victim's phone changes plea mid trial
A man who filmed himself raping an Ammanford woman on his victim's phone has changed his plea to guilty midway through his trial.
Cameron Hassan, aged 31, of no fixed abode, attacked the woman, raping her as she slept on 21 August 2021.
Hassan had been on trial at Swansea Crown Court after denying any wrongdoing. However, after the jury was shown the video of the attack and hearing the victim was going to give evidence yesterday (Tuesday, 10 May), Hassan changed his plea to guilty.
Investigating Officer DC Sophie Lambert from Dyfed Powys Police said the victim had shown great strength and determination throughout the investigation.
"I must commend her tremendous courage in coming forward and the tenacity shown throughout the investigation," she said.
"We hope this case demonstrates that Dyfed-Powys Police acts on serious allegations such as rape and sexual assault with officers working tirelessly to secure justice for victims.
"If you are suffering because of similar abuse, please contact the police, or if you would rather speak to someone in confidence, New Pathways are an independent charity that will support you through every step of the investigation."
New Pathways can be contacted at 01685 379 310 or email enquiries@newpathways.org.uk
(Lead image: Google Maps)
Women's Tour of Britain returns to Carmarthenshire
The countdown is on before the world's top women riders will race through Carmarthenshire as part of the Women's Tour of Britain.
Some 108 cyclists will race through the County to the finishing line on top of the Black Mountain between Llangadog and Brynamman as part of the stage five event on Friday, June 10.
The route will be starting from Pembrey Country Park at 10.45am and riders competing for the title will go through Pinged, Carway, Pontyberem, Horeb, Llansawel, and Llangadog.
A rolling road closure will take place along the 65-mile route which will come into action at 10.45am until 1.50pm.
Roads will be re-opened once the cyclists have passed through. A full road closure will be in place over the Black Mountain from 5am-5pm.
The event will be broadcast on ITV4 and across Europe with a helicopter camera crew following the race.
The Women's Tour departs on Monday, June 6, and coincides with the final day of a four-day Bank Holiday weekend in the UK to celebrate Queen Elizabeth II's Platinum Jubilee. The race will culminate with a prestigious finale six days later on Saturday, June 11.
Pembrey Country Park previously hosted the Grand Départ of the men's Tour of Britain as well as the overall finish of the Women's Tour in 2019.
Carmarthenshire County Council's Chief Executive, Wendy Walters said: "We are thrilled that we have again been chosen to host this top cycling event. Previous years have brought an immediate economic boost to the tourism sector as well as providing a great deal of positive media coverage."
(Lead image: Carmarthenshire Council)
Man banned from driving for 12 months for fishing offence
A man from Merthyr Tydfil who travelled to the River Loughor, near Llanelli to fish using a barbaric and illegal method, has been banned from driving for 12 months as part of his sentence.
Vu Quang Tien pleaded guilty to an illegal fishing charge and also to a charge of obstruction of a Natural Resources Wales (NRW) Fisheries Enforcement Officer on 26 April at Swansea Magistrates Court.
Mr Tien and two other anglers were witnessed by NRW Fisheries Enforcement Officers deliberately using the illegal foul hooking method of fishing – also known as snatching – at the river Loughor on 15 August 2021. NRW officers attended the site after several reports of illegal fishing were made to NRW's 24/7 incident call centre by concerned members of the community.
When approached and questioned by NRW officers, Mr Tien and his accomplices showed significant hostility and reluctance to share identification documents which eventually had to be extracted by use of reasonable force.
All of Mr Tien's fishing tackle and fish, along with his associates' fishing tackle was seized by NRW Officers at the time of the incident. The district judge on the day at Swansea Magistrates Court gave permission to NRW to confiscate these items permanently from each of them.
The District Judge disqualified Mr Tien from driving for 12 months due to seriousness of the incident, and the premeditated and deliberate action of travelling such a distance to commit the offence.
He was also ordered to pay a total of £2,334 in fines, NRW costs and a victim surcharge.
Mark Thomas, Fisheries Enforcement Officer for NRW, said: "We would like to again thank Dyfed Powys Police, the local communities and also the law-abiding anglers in the area for their continued support in reporting these illegal fishing activities.
"Foul hooking is a truly barbaric form of fishing carried out by a small minority of anglers in Wales, who have no regard for fish welfare.
"NRW and the Police take these incidents seriously as do the courts.
"Hopefully, the small minority of anglers who may in future, think of using any illegal fishing methods will take heed of the heavy fines and driving ban in this case issued by the courts."
(Lead image: Natural Resources Wales)