£4m Welsh Water Adventure opening Spring 2021 in Pembrokeshire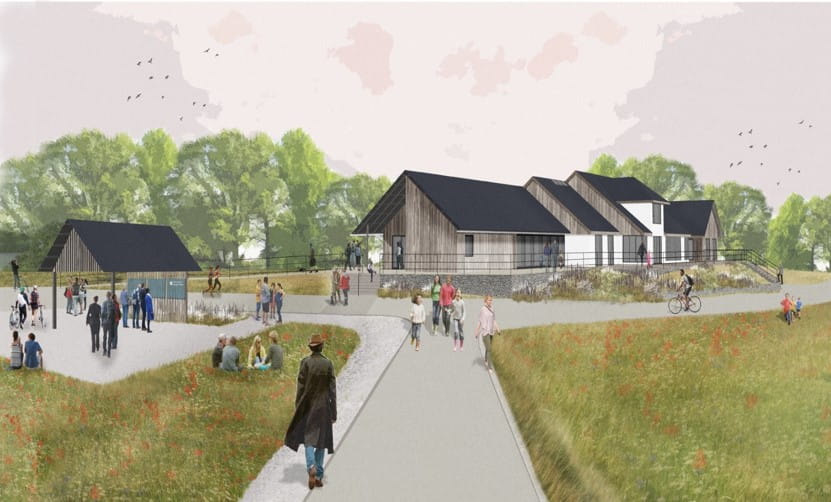 A brand-new jewel in Pembrokeshire's crown will be opening this year. Welsh Water's redevelopment at Llys-y-Frân Lake has included the refurbishment and expansion of the visitor centre and café.
A new Outdoor Activity Centre and Waterside Cabin is being built to support walkers, cyclists and watersports enthusiasts. It will include a food stop, meeting rooms, changing facilities and cycle hire.
A £4 million major investment to the visitor centre and recreational facilities is being backed with £1.7 million of European Regional Development Funds through the Welsh Government. The Welsh Government's Tourism Attractor Destination programme, led by Visit Wales, which aims to create 11 must see destinations across Wales. The redeveloped site is intended to attract an estimated 100,000 tourists and outdoor enthusiasts each year to the site.
Outdoor activities at Llys-y-Frân Lake will include both water and land-based recreational fun. On the water, visitors can enjoy sailing, kayaking, canoeing, stand up paddle and pedalboarding. Fishing on the bank or by boat will also make a welcome return.
Land activities include walking and cycling with over 14km of trails to explore and a brand new Pump Skills Track and a wide range of bikes available to hire. Visitors can also learn the art of axe and knife throwing, how to fire a crossbow or have a go at archery. Other activities include Crazi-Bugz, six-wheeled off-road buggies for young adventurers.
Plans to develop camping facilities are also underway. These will include a range of pitches from hardstanding with full services through to basic grass pitches. The site will also benefit from amenities such as electric hook-ups, water points, toilets and showers, a wash up area and access to the site's main facilities such as the café, playpark and activities.
Chief Executive of Welsh Water, Peter Perry said, "As we head into 2021, we all need to enjoy the outdoors, re-connect with nature and reap the benefits that being close to water has been proven to offer.
"The EU funding, on top of our own investment, will enable the development of a year-round offering both for recreation and education, and will have a positive economic, social and environmental impact whilst also improving the health and well-being of both local residents and visitors. Welsh Water has been working hard to re-open this exciting Pembrokeshire destination in 2021. This is great news for the local community, visitors and the tourist economy in Wales after a difficult 2020."
Llys y Frân Lake is located in a rolling pastoral landscape in the central-northern part of Pembrokeshire, West Wales near the foot of the Preseli Hills. It's approximately 11 miles north east of the County Town of Haverfordwest and 2 miles south of the Pembrokeshire Coast National Park.
In a statement, Welsh Water said: "The safety of staff and visitors remain our priority, and Welsh Water ensures that all Covid-19 Welsh Government guidelines are followed at the time of opening. As we head further into 2021 it is likely that social distancing will still be encouraged, and it has more than one health benefit. Many of us need to escape urban living and technology so with over 350 acres to explore, Llys-y-Frân Lake is soon going to be another jewel in Pembrokeshire's crown."
(Lead image: Welsh Water)
---
Pembrokeshire Agricultural Society launches 2022 Student Bursary Award
Would you like some extra financial support to assist with your chosen college or career path? Pembrokeshire Agricultural Society's Student Bursary Award is now open for applications.
The £1,000 bursary is open to all qualifying students studying agriculture, veterinary science, agricultural engineering, food technology, forestry or other subjects clearly allied to agriculture.
The bursary is tax free and will be awarded to the student who, in the opinion of a panel of judges, has submitted the best dissertation on how the bursary will assist them to complete their course of study.
The last winner of the award was 21-year-old Gracie Morris, of St. Davids. A former pupil of Ysgol Croesgoch and Ysgol Dewi Sant, Gracie was in her fourth and final year at Harper Adams University studying BSc agriculture with crop management at the time of winning the award.
Gracie said, "It was an honour and a privilege to have been awarded the Pembrokeshire County Show student bursary award in 2019. The bursary enabled me to undertake research towards my final year dissertation on biofumigation to control Rhizoctonia solani in potatoes."
"The bursary allowed me to be financially secure during my last year of studies. Most of my spare time was spent researching for my dissertation so having a part-time job alongside university was not not possible for me."
Gracie recommends qualifying students apply for the award. She said, "I would urge all Pembrokeshire students who study subjects that are clearly aligned to agriculture to apply for this bursary as it won't only assist with your studies but will also give you great experiences such as undertaking an interview which is a key employment skill. It will also assist in your future career within the agriculture industry."
Qualifying students must not have won the student bursary on a previous occasion, the applicant must be studying or has been accepted to study agriculture or allied subjects at a UK college or university at A-Level or higher and the applicants' family home must be in Pembrokeshire.
Rob James, Chairman of the Society's Bursary Committee said, "A panel of independent judges, chaired by a representative of the society, will draw up a short list of candidates who will be interviewed and the winning candidate will be asked to give a short presentation at a future meeting of the society's show council.
"The standard of applications has always been exceptional which gives a lot of heart that there are a lot of very talented young people in our community. We are very much looking forward to receiving applications for this year's bursary and hearing from the younger generation."
To enter, students must submit a dissertation of 1,000 words entitled 'How the bursary will assist my career progression.'
Further details and the entry form can be found on the website: www.pembsshow.org or by calling the show office: 01437 764331. The closing date for applications is Friday, 1 July 2022.
Bereaved mother founds wellbeing initiatives at The Little Retreat and The Big Retreat festival
The tragic loss of a young man to suicide is driving a range of mental health and wellbeing initiatives at The Little Retreat glamping site in Lawrenny, Pembrokeshire and at The Big Retreat Festival, which takes place on land neighbouring the site from June 3-6.
Gryff Morgan, 18, from Narberth, died last November following a period of mental health difficulties during which his family struggled to get him the help he needed.
His mother Kim feels that gaps between services, combined with inadequate training for key professionals who dealt with Gryff, contributed to the tragic loss of her son.
Gryff had shown signs of autism from an early age but was only referred for diagnoses towards the end of his life, by which time the fact that he was legally an adult made it difficult for Kim to help him get the right help and support.
Now Kim is working with her cousin Amber Lort-Phillips, founder of The Little Retreat and The Big Retreat, to create a Mind Space therapy offering at the glamping site and the new Gryff's Mind Space area at The Big Retreat, which will include over 18 different wellbeing-focussed talks and activities.
These will range from The Anti-Burnout Club, which will help people recognise and deal with burnout, to a sleep therapy workshop for people with disturbed sleep.
Organisations including mental health charity MIND, bereavement support charity 2wish, substance awareness charity Barod, Get the Boys a Lift – a community interest company that works to encourage men to get talking about their mental health – and peer to peer support group Living in Suicide's Shadow (LiSS) will all be holding activities in Gryff's Mind Space.
Meanwhile, Kim is working hard to raise money for mental health charities; so far she has raised over £35,000, with the funds donated to charities including Pembrokeshire MIND and Get The Boys A Lift.
A portion of the profits from therapies in the Mind Space at The Little Retreat will also go into the fundraising pot. Therapies in The Mind Space treatment room ranging from aromatherapy to reflexology aim to help people relax and take care of their mental wellbeing.
"I'd like to say a big thank you to all the people involved for their efforts in helping and supporting us," says Kim. "All my efforts are now focussed on raising funds and creating initiatives in Gryff's memory that I hope will lead to lasting change."
Kim's next plan is to found a charity, also called, Gryff's Mind Space, which will work to create awareness of vulnerability, neurodiversity, suicide, physical and mental health, signposting people support and working to improve the help and support available for 18 – 25 year olds. Kim will also organise quarterly pop-up events with workshops and classes focused around mental health and wellbeing.
"There's a big gap in our services (the health board, police, CPS, prisons, schools and government) when it comes to the transition from teenage to adult, especially if there is undiagnosed neurodivergence (an invisible disability)," says Kim.
"The suicide risk is significantly higher in someone with ASD and poor mental health. Because it's known as an 'invisible disability' many people in the 'medium category' go unnoticed until it is too late.
"Many are very intelligent and, like Gryff, learn how to mask their symptoms, making it even harder to diagnose. They are hiding because they feel ashamed. It is not shameful to be your true self. It is shameful on people who don't allow others to be their true selves.
"The pressure of holding it together builds up and melt downs ensue. If help still doesn't come, the longer it builds up the likelihood of a complete breakdown (often psychotic) happens.
"Mental health is a very hot topic just now. We all know it can affect any one of us. We can all do with as many tips as possible, and our own mental health toolkit. We all need to be listened to and validated – yet the stigma and the taboo around mental health is endemic.
"By talking openly, the stigma will lessen, and the more people talk the easier it gets. Raising awareness through education will help speed up the process of change we so desperately need to protect our vulnerable young adults, who are still just our children."
Kim's aim is to achieve as much as she can in Gryff's memory and to help bring about changes that could save other people in similar circumstances.
"I'd like there to be no stigma at all about anything to do with mental health and I want to see policy change within all the services making it easier and quicker to get diagnosed," she says.
"For young people aged between 18 and 25 it should be possible for parents to liaise with key services and advocate for their children. I also want to see the various services that get involved when someone has a mental health crisis to have better training and interconnection so that nobody falls through the gaps.
"And society as a whole needs more knowledge and understanding; we need to teach people about how the brain works from a young age."
National Gallery masterpiece visits Haverfordwest
The Riverside Library, Gallery and Visitor Information in Haverfordwest is welcoming a very special exhibition this spring, thanks to the National Gallery Masterpiece Tour, sponsored by Christie's.
Hélène Rouart in her Father's Study by Edgar Degas will form the centrepiece in an exhibition drawn from the National Welsh Portrait Collection at The National Library of Wales, which will be held at the Riverside Gallery, Haverfordwest.
The exhibition will contextualise the painting through an exploration of the female form in art, and analyse the theory of the male gaze in portraits through the eyes of both female and male artists such as Seren Morgan Jones and Sir Kyffin Williams.
The exhibition will be open from 14 May – 3 September 2022 and will run alongside the current exhibition Pembrokeshire: Past & Present.
Mike Cavanagh, Head of Cultural, Leisure, Tourism and Registration Services for Pembrokeshire County Council, said: "We are delighted to have the opportunity finally to be part of the Masterpiece Tour after the pandemic forced us to put our plans on hold. The arrival of the Degas will have a huge impact on the community and the county's many visitors, and will inspire, illuminate and raise ambition within the county."
Pedr ap Llwyd, Chief Executive and Librarian at the National Library of Wales added: "It is wonderful to be able to work with Pembrokeshire County Council and the National Gallery to bring the 'Masterpiece Tour' to this region of Wales which gives the residents of Pembrokeshire and those visiting the area the opportunity to see the Hélène Rouart in her Father's Study by Edgar Degas."
An exciting series of events and activities are being planned to support the exhibition, such as a special talk about the masterpiece painting by one of the National Gallery's curators.
Lead image: Hilaire-Germain-Edgar Degas. Helene Rouart in her Father's Study. (Image: The National Gallery, London)